Welcome to the Bulldawg Club, home of some of the most rabid
Georgia Bulldawgs Fans in the entire Bulldawg Nation!
We were Bulldawg born and Bulldawg bred. When
they put us in the ground we'll be Bulldawgs dead!

The Dawgs fly out play Missouri this week in what will be Missouri's first SEC Conference game. Missouri's been hyped up about this since before Spring Training and they're hoping to make a statement in their first conference game. Let's hope the Dawgs give Missouri a good, old-fashioned SEC welcome that they'll never forget!

This is a pretty good preview analysis for the game: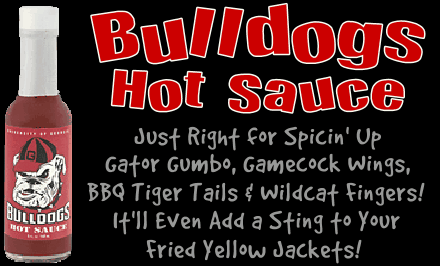 The Bulldawg Club's meetings are held in The Dawgpound Bar & Grill located high atop Chickapin Hill. Cocktails and dinner start long before the kickoff and, regardless of whether the main course that week happens to be BBQ ribs, beef tenderloin or roasted oysters, the menu always includes the traditional shrimp, grits, Jack Daniel's, George Dickel and Swamp Coffee!
Thanks for stoppin' by, Y'all! Come and see us when ya can!
ENVIRONMENTAL NOTICE: In order to do our part, everything on this web site has been made of recycled Jack Daniel's and George Dickel bottles. Our banner was handcrafted out of the recycled bottle tops and all of the photographs have been printed on the backs of recycled George Dickel labels. The text comes from recycled Jack Daniel's labels. No electrons were mistreated or harmed in the process. Finally, even though we don't believe any of Al Gore's BS, we have agreed to "offset" our web footprint by planting a kudzu patch in South Carolina for each graphic posted on this web site.
MEMBERSHIP INFORMATION: The Bulldawg Club's Meetings and Tailgate Parties are open to all true Georgia Bulldawgs Fans who find their way to Chickapin Hill.
Copyright @ 2008 - 2012 The Bulldawg Club | Chickapin Hill, Ga
Last updated: Thursday September 06, 2012